Homemade classic comfort food at it's best. This easy to make tuna noodle casserole features a Parmesan topping. Scaled-down for the smaller household, it comes together quickly and will become a favorite easy weeknight meal.

Jump to:

Introduction and My Rating
Tuna noodle casserole has been on my to-do list for several years. Anytime I ask for suggested recipes from readers, it comes up.
But I had a few problems. I wanted an easy everyday recipe with great taste. I wanted less than 16 ingredients (yes, there was one). I didn't want to feed an army. And no hour mixing things.
But my biggest issue was the can of soup. I made several attempts. Nothing I really want to discuss, but let's just say I couldn't get where I wanted to go without the can of soup. I can replace the soup, but it is too much work for many of the readers and requires a trip to the market. So it became do the recipe with the can of soup or not do the recipe.
Now that can of soup is not evil, but I tend to overreact to cooking with cans of soup. I enjoy reading recipes, and the classic crockpot recipe has at least two cans of soup, an envelope of onion soup mix, and several cans of something else. I find it very irritating they are calling this cooking.
So to give in to the can of soup is a bit painful but in this case, necessary. Any from scratch effort would be at least twice this size and four times more work.
The "inspiration" recipe is the classic tuna casserole recipe at the Campbell site. Think of it as the basic recipe America loves. Add in my wife's memory for the buff-up version of the basic recipe, and we have an excellent tuna casserole.
My Rating

A nice solid every day 4. That is as high as tuna casserole goes.
📋Ingredients
The Tuna
Use the tuna you love. My wife and I both grew up with water-packed Chicken of the Sea, and that is what I used. Feel free to change that out.
Also, this recipe uses twice as much tuna as many recipes. If I'm making tuna casserole, you will be able to find the tuna.
You could also use shredded cooked chicken if you wanted.
The Soup
Other "cream of" soups will be fine. We always use celery, but mushroom or even chicken will work. We are using the thickening power to make it creamy.
Vegetables
We like to add celery and onion along with peas. Those are very typical. The celery and the onion need some precooking since the casserole doesn't cook that long.
Some people like mushrooms, but not really in our house. There are food allergies and just not a taste we normally add.
The Topping
We love a Parmesan bread crumb topping. I have accused my wife of using a bigger pan so there could be more topping.  I would call the topping a feature of this recipe. It is just so good.
❄️Storage
Once cooked, this casserole is good refrigerated for 3-4 days or frozen for 3-4 months.
You can make this ahead in an oven-safe pan. Prepare up to the point of cooking but seal well and freeze for up to 3-4 months. Be sure to defrost the frozen casserole overnight in the refrigerator before cooking.
📖Comfort Foods
Old Fashion Scalloped Potatoes and Ham
Leftover Turkey Tetrazzini
Cheesy Chicken, Broccoli and Rice Casserole
Simple Chicken Pot Pie

🖼️Photo Instructions
Preheat oven to 400°.
Cook 2 cups pasta to Al Denta per package instructions. Two cups are half of a 1 pound box.
Chop one rib of celery and 1/2 medium onion. Saute in 1 teaspoon butter over medium-high heat until they are becoming a bit transparent—about 5 minutes.
Mix drained pasta, the sauteed onion, and celery, 1 can cream of celery soup,  1/2 cup milk, 1 cup frozen peas, salt and pepper to taste (I suggest 1/2 teaspoon each), and two 5 oz cans tuna drained.
Place 9 by 6 baking dish. Mix 1/2 cup panko breadcrumbs, 1/4 cup grated Parmesan cheese, and 2 tablespoons melted butter.
Spread the topping over the casserole.
Bake until nicely browned. About 30 minutes. Remove and allow to sit for 5 minutes before serving.


Do you want more recipes from 101 Cooking for Two? Sign up for the newsletter and get all posts delivered straight to your inbox!


📖 Recipe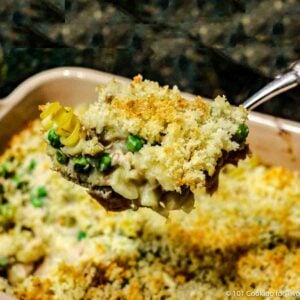 Classic Tuna Noodle Casserole
Homemade classic comfort food at it's best. This easy to make tuna noodle casserole features a Parmesan topping. Scaled-down for the smaller household, it comes together quickly and will become a favorite easy weeknight meal.
Servings #/Adjust if desired
4
servings
Ingredients
Recipe Notes
Pro Tips
This is a smaller recipe and uses a 9X6 inch baking dish. A double recipe uses a full-size 13X9 casserole dish.
I use more tuna than some recipes and you may cut it in half if you want.
We don't eat mushrooms in our house due to food allergies. If you want mushrooms, cook them along with the celery.
Other "cream of" soups will work like mushroom or chicken.
You can refrigerate for 3-4 days after cooking.
Good frozen for 3-4 months.
You may make ahead and freeze for 3-4 months or refrigerate for 2-3 days. If frozen, thaw completely in the refrigerator overnight before baking.
Have More Questions?
Make it Perfect First Time and Every Time. Don't miss out, check the full post above. Almost every recipe includes easy step by step photo instructions so you can visualize yourself cooking this recipe along with helpful tips and options.
TO ADJUST THE RECIPE SIZE:You may adjust the number of servings in this recipe card under servings. This does the math for the ingredients for you. BUT it does NOT adjust the text of the instructions. So you need to do that yourself.
Nutrition
Calories : 402kcalCarbohydrates : 42gProtein : 28gFat : 14gSaturated Fat : 7gCholesterol : 63mgSodium : 838mgPotassium : 491mgFiber : 4gSugar : 7gVitamin A : 908IUVitamin C : 16mgCalcium : 182mgIron : 3mg
Serving size is my estimate of a normal size unless stated otherwise. The number of servings per recipe is stated above. This is home cooking, and there are many variables. All nutritional information are estimates and may vary from your actual results. To taste ingredients such as salt will be my estimate of the average used.
Publisher's Note: Originally Published January 16, 2017. Updated with expanded options, refreshed photos, and a table of contents to help navigation.
Incoming search terms: